Every once in a while, I get a wild hair. Sometimes it's positive; sometimes it's just crazy. An example of "crazy," is the tradition that each time my husband goes on a business trip, I feel the need to paint a wall in the house.
Lately I've had a wild hair that benefits my entire family. This week I began stocking our freezer with meals. Having a stocked freezer keeps us from eating out or living on frozen pizza on those busy days.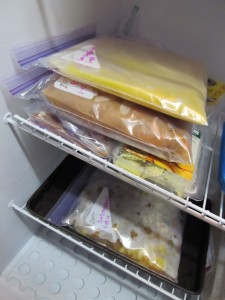 Here are a few tips for preparing and storing freezer meals.
Don't prepare meals just for the freezer. Make a double-batch; freeze half and serve the other half for dinner that night. If you're going to put in the work, you may as well enjoy some right away.
Cool food completely before storing it.
Store what you can in gallon-sized freezer zipper bags. This is the easiest way to conserve space without tying up your pans. I also suggest double-bagging.
If you can't store meals in in a freezer bag, store them in disposable, foil pans. This keeps your everyday pans out of the freezer.
After storing the meal in a freezer bag, put in on a cookie sheet before putting it in the freezer. This ensures it freezes flat. Once the meal is frozen, remove it from the pan and stack it with your other meals.
To defrost meals, put them back on a cookie sheet in the fridge. I've had way too many bags leak.
Label all meals with name of meal, date prepared and any baking instructions.
Try out these freezer meals! All these are doubled and feed a family of 4-6 twice. Like I said, I freeze half and use half to feed my family that night.
---
Potato and Ham Casserole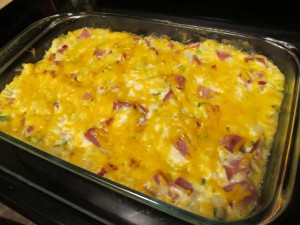 Ingredients:
2 cans cream-of-chicken soup (I use fat-free, but use whatever you like)
6 oz sour cream
3 green onions
20 (ish) ounces frozen, diced hash brown potatoes
1 turkey ham, cubed
12-16 ounces shredded cheddar cheese
Salt and pepper to taste
Directions:
In a large bowl, stir together soup and sour cream. Add green onions and mix.
Stir in potatoes, ham, half the cheese, salt and pepper
Spread into two 9×13  pans and top with remaining cheese.
Cover one pan with plastic and foil and label with meal name, date and cooking instructions.
To serve, thaw and bake at 350 degrees for 30-40 minutes
---
Beef Stew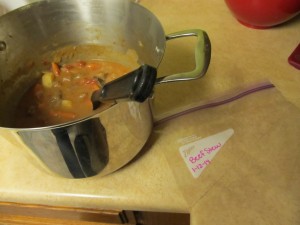 Ingredients:
2 T olive oil
1 large onion, chopped
2 lbs stew beef
1 T Essense of Emiril seasoning (or whatever all-purpose seasoning you like)
1/2 C flour
28 ounces beef broth
1/2 C orange juice
4-5 baking potatoes, peeled and chopped
8 ounces baby carrots
28 ounces diced tomatoes
4 -5 dashes worcestershire sauce
salt and pepper to taste
Directions:
In a large stock pot, heat oil over medium heat. Add onion and brown slightly. Add meat  and continue to brown.
Stir in flour and seasoning.
Stir in beef broth and orange juice and mix well.
Add potatoes, carrots, tomatoes, worcestershire sauce, salt and pepper.
Let simmer over medium-low heat for two hours.
Let half cool and freeze in a gallon-size freezer bag.
To serve, thaw and heat in a sauce pot or a slow cooker (low for 4 hours)
---
Sweet and Sour Meatballs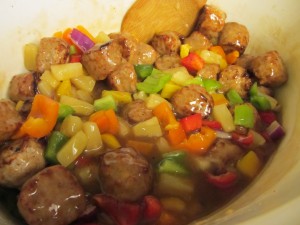 Ingredients:
2 20-ounce cans pineapple tidbits
1/4 C brown sugar
1/4 C cornstartch
1/2 C apple cider vinegar
3 T soy sauce
1/4 C orange juice
1 can (14.5 ounces) chicken broth
1 green, 1 yellow, 1 orange, 1 red pepper, diced
1 red onion, diced
32 ounces meatballs
Directions:
Drain pineapple. Add the juice to a large sauce pan and set the pineapple tidbits aside for later.
Add apple cider vinegar, soy sauce, chicken broth and orange juice to pineapple juice.
With a whisk, combine brown sugar and cornstarch in a small bowl and whisk into liquid.
Heat over medium heat, stirring constantly until thick and bubbly. Let half cool.
In a freezer bag; add half the meatballs, peppers, pineapple an onions. Top with half the cooled syrup and store in freezer.
To serve, thaw and cook in a slow cooker on low for four hours
To eat immediately, combine remaining meatballs, peppers, pineapple and onions in a slow cooker. Top with syrup and mix. Cook on low for four hours.