I love peppermint bark at Christmas and I think it's a shame we don't eat it year-round. So when I heard about an idea for Valentine's Day peppermint bark, I had to try it!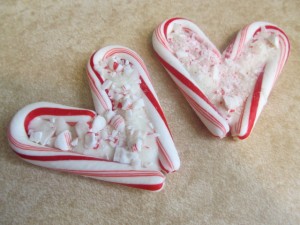 I've seen a lot of ideas on the best way to do this. Some involve baking, some involve a stick, some involve food-coloring. Because I have two children, I try to do things the most efficient way possible (also knows as the fastest, least time-consuming way), so this is the way I think is easiest and still turns out great.
Start by lining a cookie sheet with wax paper. Now use your leftover mini candy canes from Christmas (If you don't have any this year, make sure to stock up at this year's after-Christmas sales) and put them together on the wax paper to make a heart. I used 24 candy canes to make 12 hearts.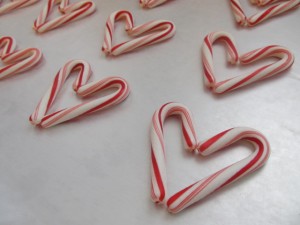 Now melt some white chocolate chips. For my 12 hearts, I used about half a bag or one cup.
To fill the candy canes, I filled a disposable plastic bag with the chocolate and cut a small tip out of the corner. Then I just piped the white chocolate into the heart.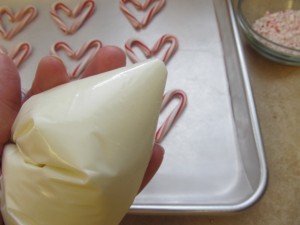 As you can see, they aren't that beautiful at this point.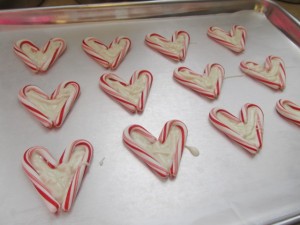 To mask their bumps and swirls (and to make them delicious!!), crush about six of the mini candy canes and sprinkle them on top.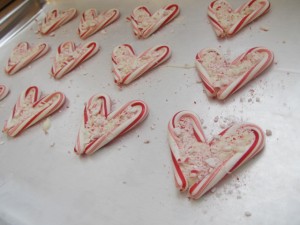 Now let them sit for about an hour until firm.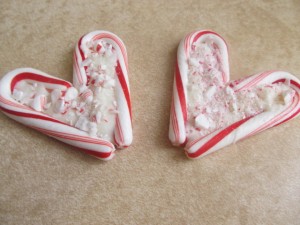 Happy Valentine's Day!!