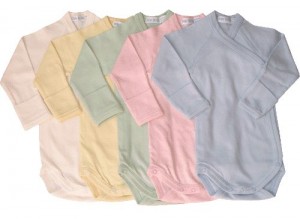 If you've ever had a baby, you know baby spit-up and blow-out diapers cause the most horrific stains. The worst part is, these stains darken over time, which was a great surprise when I pulled my baby clothes out of storage to use on my second child. I've done some research on stain removal, combined the results and come up with a great formula:
Cover the stain with Dawn liquid dish soap.
Sprinkle Oxy Clean powder on top of the dish soap and let it sit (On fresh stains, I only let it sit for about half an hour. On set stains, I let it sit for at least 2 hours).
Then just toss the garment in the washing machine with your other clothes.
This formula worked for me on fresh stains, stains that have been washed and dried once, and stains that have set for 3 years. Good luck!!