Spring is my favorite time of year. It's the perfect temperature, the flowers are beautiful and the bugs haven't quite made their grand entrance yet. The part of spring I have a love/hate relationship with, is the deep cleaning. I find this process is a bit less painful if I have some direction. Below is a list of my spring cleaning tasks. Though many should be done more than once a year, I try to complete each of these tasks in the spring specifically.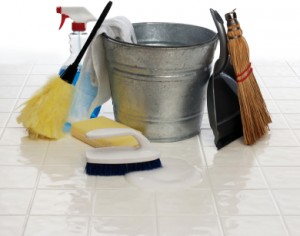 Kitchen – Take everything out of the cupboards and wipe them down. This is a great way to de-clutter as well. Also, consider adding some organization as well. Add utensil organizers, labels, or store things like twist-ties and rubber bands in plastic zip bags. Pull out the fridge and range (I know. This can be disturbing to see what gathers under there) and clean the floor. Wipe down the inside of the fridge and freezer.
Windows – This is my least favorite job in the world, but if you do it every year, the next year, it's not so bad. By windows, I don't just mean the glass, I mean everything. If you can, remove your window to get the entire track clean. The best tools for this are Q-tips and a toothbrush. When that's done, change the water and wipe down the blinds.
Walls/baseboards – I fill an old whipped topping container with Hot water and about 1T of dish soap, and wipe down the walls and baseboards with this mixture.
Shampoo carpets – This should be done every 3-6 months at least. I have a household machine I LOVE! It's easy to use and gets the job done fast. If you don't want to invest in one, consider renting one. Also, check ads. There are always a ton of coupons for professional carpet cleaning.
Shampoo furniture – Using the same machine you used on the carpet (if possible), shampoo water-safe sofas and chairs. Obviously, you don't want to shampoo a leather sofa… but make sure to clean those as well.
Light Fixtures – Remove and wash all light fixtures. It's amazing how dirty they can get.
Cold-air returns – Because these suck in air, they often get filthy!
Organize closets – With two kids in the house, our closets and storage cupboards are generally a disaster. Remove everything and then organize. This is another great way to de-clutter.
Garage – There are few things less fun than cleaning a garage, but the longer you let it go, the worse it will be. Reorganize the garage and sweep out the dirt and rocks that pile up during the winter.
Looking at this list doesn't make me feel giddy inside. I'll admit it. I don't like spring cleaning. I'd rather sit outside and read a book. But it has to be done, so here are a few tips to make the job a bit more enjoyable.
Listen to an audio-book. – This is my go-to for most unpleasant tasks. I love books and getting lost in a book almost makes cleaning window tracks bearable.
Set goals and rewards. – For example, I love to decorate my home. A good incentive for me to wash all the walls, would be to allow myself to purchase a new piece of art to hang on that sparkly, clean wall.
Set time chunks – You're not on a deadline, so don't miss out on more important things because you are stuck inside doing spring cleaning. If you have 15-minute chunks here or there, do as much as you can in 15 minutes. You'd be surprised how much you can do in such a short time.
Take before and after photos – It really does motivate me to see something change so drastically. For example, this is my first spring in my new house. This week, I began my least favorite task of windows. The house is 29-years-old… and I'm not sure the front window has been cleaned since it was installed. UGH! While cleaning it was a very unplesant experience, it was so gratifying to see how much better it looked after an hour of scrubbing.
That's it from me. I'd really like some input. What is missing from my "to do" list and what helps you get up and start cleaning?