Lately, I've tried to focus on simplifying my life. With two crazy kids (I love dearly) and many other responsibilities, I'm always looking for things to take away some stress. I've decided to start posting things that simplify my life. I'll repeat this post every so often. Sometimes it will have a specific theme and sometimes it will be random. Today, these are five of the things that make my life easier around the house.
1. Individual ground beef/turkey portions: I like to buy ground turkey in bulk to save money. I've tried different methods to store my turkey, but this is the best for me. When I get home, I roll the turkey in 1/2 lb balls. I store them in individual zipper bags and put these in a gallon-size, freezer-safe bag. Now when I need 1/2 lb ground turkey I just pull one bag out. This saves a lot of time and money.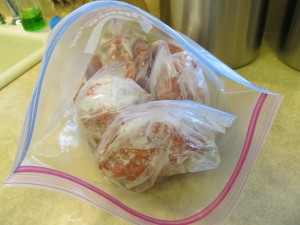 2. Child-height coat rack: I used to spend a lot of time getting coats for everyone when we left the house and then hanging them up when we got home. We decided to install a coat rack in our entry way, low enough for our kids to reach. I purchased an inexpensive peg rack at a local craft store and painted it red. Then my husband attached it to the wall using screws. For anyone out there who may think it's sexist for me to make my husband hang the rack, I completely believe a woman is more than capable of such a task. I just personally lack the ability to hang something level. It's not because I'm a woman, but because I'm challenged in that area. Now my kids can get their own coats and put them back when we get home.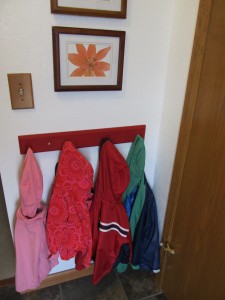 3. Individual spray bottles: Like my ground meat, I like to buy cleaners in bulk to save money. Rather than haul one bottle of cleaner around the house, I store them in every bathroom and the kitchen. I purchased this empty spray bottle for $1.49. So in my house, for under $6, I can stock each room with a cleaner. I'm more than willing to pay $6 to make my life a little easier. Now I don't have to wonder which room I left the cleaner in, or go for a search when we have an impromptu mess… which is often.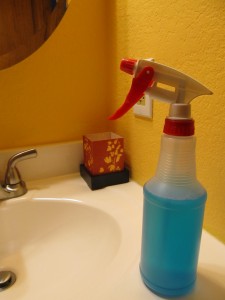 4. Stick blender: I use this gadget every day. I like to make a fruit smoothie for either breakfast or lunch, but I can't stand using a huge blender. It takes too much assembling and clean up. With my stick blender, there is one attachment and it can all easily fit in my dishwasher. Plus, I can blend in the cup it came with, a large bowl, a pot on the stove or anything else.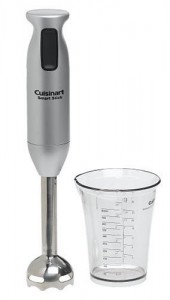 5. Audio books: This is my motivation to do anything. I love to read, but as I stated before, with two kids constantly demanding attention, it's hard to read very often. I let myself listen to an audio book while I clean, cook and exercise. You can generally tell how much I'm enjoying a book by level of cleanliness of my house, the deliciousness of my food and the firmness of my abs.
What are the things that make your life easier?