We've been in our new house less than a year and we recently completed our first total room makeover: the dining room. I decided to share it with all of you. Really I'm just overly excited… but maybe you'll find something that will inspire you.
First we'll start with the before picture. It wasn't a terrible room, but it needed a lot of work.
Before:
The first thing we did was paint an accent wall. Accent walls are a lot of fun because you can really pick any color you want. I love red, but I think an entire red room would be a bit much. One red wall is PERFECT! If your favorite color is a bit much for a whole room, pick one wall and paint it that color.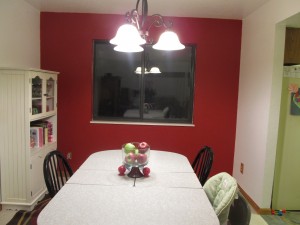 Then, we invested in hard wood floors. HOORAY!! This was the main change I wanted from the first time we saw this house. A carpeted dining room with kids is basically the worst idea ever. I'm happy to say, this floor has passed the spilled milk test with flying colors. We finished it in red oak and stained it with Duraseal English chestnut stain.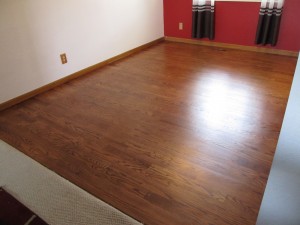 This was a very exciting  purchase: a new table! We were using a table my grandma gave us right after we got married. It was an old stainless-steel table from the 1950's. I loved it and it was still in great shape, but it was a little tight for our family so we decided it was time to upgrade. We got this table at American Furniture Warehouse. They are based out of Colorado, but will ship anywhere in the US. The farther you are, the more it costs; but their prices are amazing!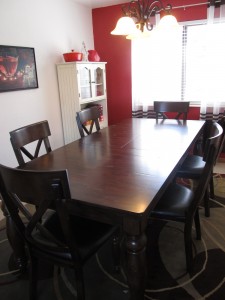 Now we needed to invest in window treatments. I didn't want anything heavy, because I wanted the natural light to shine through. But I didn't want plain sheers. I got these at Burlington Coat Factory for $20 for the set! They had a huge selection of drapes, for around the same cost. I've also found inexpensive drapes at Ross and TJ Maxx.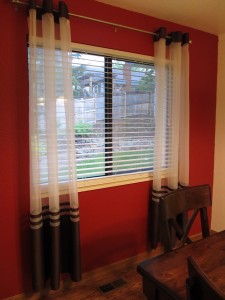 Since it's a dining room, I decided to decorate with my cutest/most often used cookbooks. I want to display my cookbooks, plus it makes it easier to get to them when I need to, which is often. My husband makes fun of me because I own six cookbooks with the word "cupcake" in the title. I don't see what's so strange about that.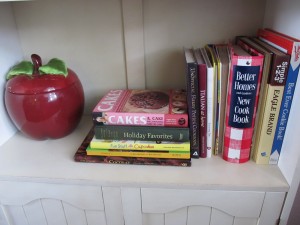 I broke a cardinal design rule and decided to decorate with fake flowers. They just look so real, I couldn't resist! I purchased these at Hobby Lobby for $2 a stem. I used a glass vase I already had and filled it with glass beads (also at Hobby Lobby for $3) to stabilize the flowers.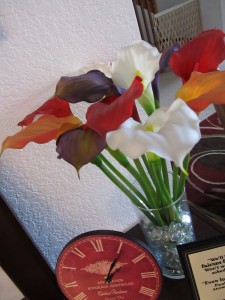 One of my favorite things to decorate with is empty bottles. These are two sparkling cider bottles I decided were too pretty to throw away. Plus, it's an extremely inexpensive decoration.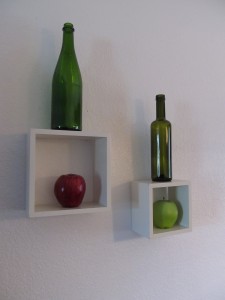 Here is an inexpensive piece of art! I started with a picture of my children and changed the brightness a bit in Photoshop. Then I added a scripture to the top that goes with the picture . This can be done with a favorite scripture, a quote or a family name. The whole project, finished and framed was around $20!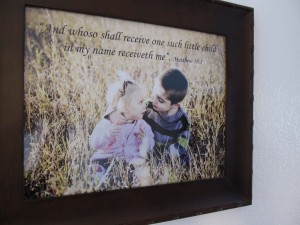 We love to decorate with books. Both my husband and I collect books and it's a lot of fun to display them. They come in great colors and tell a lot about us. And again, it's an inexpensive way to decorate since we already have the books. By the way, most of these books were purchased used. We LOVE library used book sales.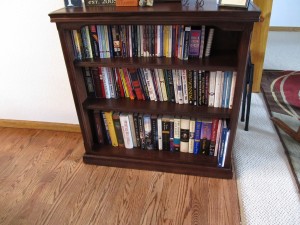 I love my dishes. They are so cute! I decided that rather than hide them away in a cupboard, I'd display them where they can be seen. Dishes make great decorations.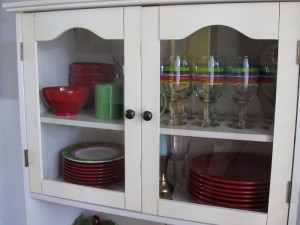 Here is the finished project. TADA! We're very happy with how the room turned out. Though I think my husband is already tired by the fact that I have paint samples taped to nearly every wall in the house. Stay tuned!