We love Halloween in our house, especially my son. I think it's the combination of dressing up like a superhero, loads of candy, and watching "It's the Great Pumpkin, Charlie Brown," everyday for a week. What's not to love?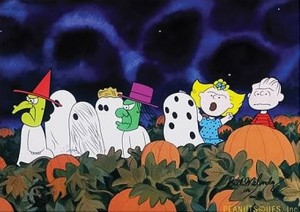 But with all this joy, it's important to take extra safety precautions.
If you want to give your kids the trick-or-treating experience, but don't want to knock on strangers' doors asking for candy:
Check out community events. Most malls, zoos, museums, cities and schools host trick-or-treating. Some do it for free, some charge a small fee, and many charge a food bank or other charity donation.
Gather a group of friends and do a trunk-or-treat. We do this every year in our church group. We all park and pop our trunks. We decorate our trunks and pass out candy.
Host a Halloween party and ask families to bring candy for trick-or-treating. Let the kids go from room to room, trick-or-treating.
If you do take your kids out trick-or-treating:
Make sure children go out in groups.
Make sure each child has a flashlight and at least one has a cell phone.
Plan a route for for the children to follow.
Add reflective tape to costumes and bags to make children more visible.
Eat only factory-wrapped candy. Don't eat homemade treats from strangers.
Do not to enter anyone's home.
Make sure costumes are warm, comfortable and easy to move in.
Don't approach houses with the porch light off, and don't trick-or-treat past 9 p.m.
Happy Halloween, everyone!!