As a reminder, Father's Day is coming up this Sunday (June 19)!  This is one of my favorite gifts I've made for Father's Day. I made one for my husband and my dad a few years back.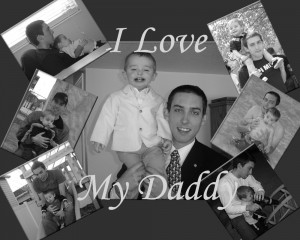 This was so easy to make. All I did was open my favorite pictures in Adobe Photoshop. I turned them black and white and arranged them on an 8×10  gray canvas. Then I used the text tool to add the words. I did the same for my dad, including pictures of all his grandkids and the words "We love you Grandpa." I had them printed and put them in inexpensive frames. That's it! The entire gift cost less than $10 and is something both my husband and dad can cherish forever.
If you don't Photoshop, print the actual pictures and arrange them in a collage on a piece of sturdy paper. Happy Father's Day to all the dads out there!