This gift is great for a child of any age and can be personalized to fit any taste. This is the one I made my niece for her 8th birthday.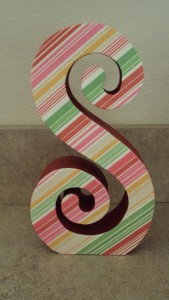 Most craft stores sell wooden letters. Get the first letter of the name of the person you're making the gift for. If you can't find one that stands on its own, find one that hangs on the wall and decorate it the same way.
Find a piece of scrapbook paper (also at a craft store) that best fits the person's taste. My niece has a rainbow-themed bedroom, so I thought this paper was perfect. Pick a paint color that goes well with the scrapbook paper.
Paint the sides and back of the letter with the color you picked. Now it's time for the front! If possible, trace the outline of the front letter on the back of the scrapbook paper. Because mine was so swirly, there were too many crevices where I couldn't fit my pencil. Instead, I painted the front of the letter and stamped it on the back of the paper, creating a perfect outline. Make sure you do trace or stamp the  front of the letter on the back of the paper, or your letter will be backwards, and that will likely make you angry (as is understandable).
Cut out the traced letter and glue it to the front of the letter using Mod Podge. I love this stuff! It can do anything! It's like the crafting equivalent to duct tape!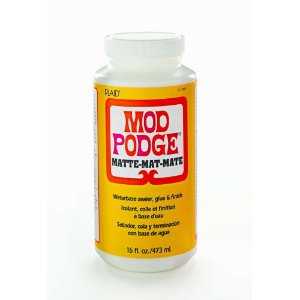 After the letter dries, paint the entire letter with the Mod Podge. I like to paint the whole thing because the Mod Podge gives it a little shine, and I want to carry that throughout the entire letter.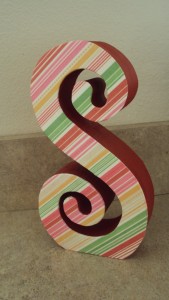 That's it! This is a super simple craft great for a bedroom. This is also a great family gift to personalize using the first letter of the family's last name.