I love Christmas! It's a great time to get together with family and friends and really concentrate on what is most important. But with all this joy comes a lot of stress in the form of entertaining. Try these tips to simplify your holiday entertaining.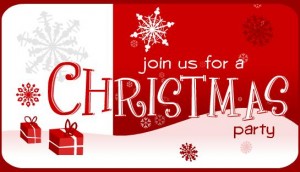 Make parties pot-luck. All you have to do is prepare the main dish and everyone else does the rest. Hosting a party is enough work without planning a menu. Make assignments so you don't end up with 15 pumpkin pies.

Use disposable  dishes. Stores now carry holiday-themed cups, plates, bowls, napkins, etc. They are fancy enough to keep your party classy, but can be thrown away. The last thing I want to do after hosting a party is wash dishes. 

Let the grocery store help. No one will have less fun at your party if you use store-bought pie crusts, appetizers, sauces, mixes or rolls. Supplement with fresh and homemade items.

Schedule parties during the week. Weekday parties are expected to be more low-key and shorter.  You can still have a great time with family and friends without having to provide weekend entertainment.

Make assignments. This year we are hosting Christmas at our home. We are so excited, but there is a lot that goes into hosting Christmas. Rather than take it all on ourselves, we are assigning specific meals and activities to family members. Everyone wants to be involved and help out, so it's important to give them the chance.

Make things ahead. Most things can be made in advance. Many sides can be made a day or two before, and cookies can be baked and stored in the freezer for six weeks.

Don't plan activities. Keep parties casual and let people socialize rather than have scheduled activities. It's more fun and less stress for you.
Send email invitations.  Design an invitation on your computer and send it as an attachment. This takes away the stress of printing, addressing and sending invitations. People are also more likely to RSVP "yes" or "no" if they are already on their computers and can just hit the "reply" button.
Shop sales in advance. For many, one of the biggest stresses when it comes to entertaining is the cost. Start shopping ads a few months in advance and plan what you will serve based on what is on sale.
SIMPLIFY! You don't need 25 different desserts, 15 different sides and an array of beverages. Provide only what is necessary and a little extra.  Remember why you are having a party. What people will remember is how much fun they had with friends and family; not the food or tableware.
What are your tips for stress-free holiday entertaining?