Growing up, my mom always made sugar cookies for my entire school class on Valentines' Day. This was when it was still okay to bring homemade treats to school. Not only did she make and frost 20+ sugar cookies from scratch, but she piped the names of each of my schoolmates on their own personal cookie. I think that's pretty amazing.
Now, each year, I make these personalized cookies for my family as a fun childhood memory. The cookie recipe, is actually a shortbread and is the best sugar cookie recipe I've ever tried.
The original recipe comes from allrecipes.com, but I've changed it a little bit (as I always seem to do).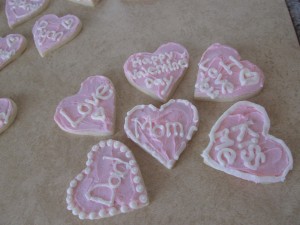 Cookies:
Ingredients
1 pound butter, softened
5 cups sifted all-purpose flour
2 cup sifted confectioners' sugar
2 tablespoon milk
1 teaspoon vanilla extract
2 teaspoons peppermint extract
Directions 
Preheat oven to 325 degrees F.
Mix butter in a mixer until light, add remaining ingredients.
Knead until velvety. Roll one-quarter of the dough at a time to about 1/3 inch thickness using the smallest amount of flour possible.
Cut out using a heart-shaped cookie cutter.
Bake on a lined cookie sheet for 10 minutes. Cookies will be almost white when cooked.
Frosting:
1 C butter
4-6 C powdered sugar
2 t peppermint extract
2-4 T milk
1/8 t pink food coloring paste
Directions:
Cream butter and powdered sugar
Add milk and peppermint extract and beat for 5 minutes
Take out 1/4 of the frosting to leave white for piping.
Add food coloring and beat well.
Now just frost the cookies with the pink frosting…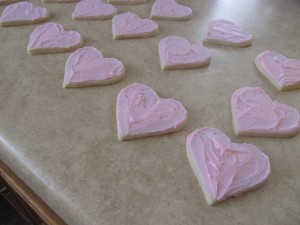 and pipe on the names/greetings.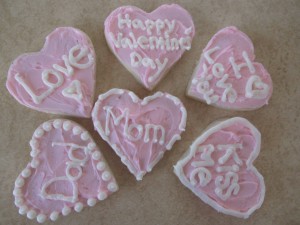 Look how cute!!!
This makes a ton of cookies, which is good fro me since I send them to me entire family. If you're just making them for a few people, it's probably a good idea to cut the recipe in half. I sometimes switch out the peppermint extract for almond.  YUM! These cookies are so wonderful! They taste great and are so fun to give and to get. Plus they are a great way to control eating an entire plate of cookies. Once the cookies labeled "Mom" are gone, I've eaten all my cookies (though I often slip in some "Be Mine" and "Happy Valentines' Day" cookies for just such emergencies.