As is obvious by this site, I love dessert! I love making it, eating it and sharing it. But obviously I can't make full-calorie desserts every day. Here is a recipe for a delicious pie to cure your sweet craving without banishing you to a week of sweat pants. I got the original recipe from my mother-in-law. I've made the regular version several times, but here is a lower-calorie option that is still super delicous!
Low Fat Cream Pie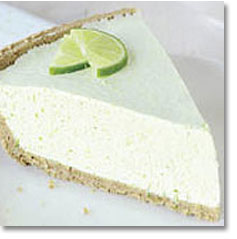 Ingredients
1 3-oz package sugar free flavored gelatin (I like lime and orange).
1/4 C hot water
2 6-oz containers lite yogurt (use the same flavor as the gelatin).
8 oz thawed lite whipped topping
1 pre-made 8-oz reduced fat graham cracker crust
Directions
Pour hot water on gelatin and whisk until dissolved. Let cool a bit, but do not let set.
Whisk in yogurt.
Fold in whipped topping and spread into crust.
Refrigerate at least two hours.
That's it! I love this recipe because it is fast, easy and low-calorie/fat.