Last week on one of our many trips to Target, we found a Funfetti cake mix, but with Halloween sprinkles! We were so excited, we had to buy it. That Sunday we decided to make it for dessert. The box had a picture of a jack-o-lantern, so when my son saw it, he was convinced we were having a jack-o-lantern cake. Rather than disappoint him, I decided to make one. And it was extremely easy.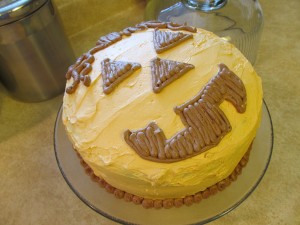 Just bake your favorite cake (mix or from scratch) according to the directions, in two 8″ or 9″ round cake pans.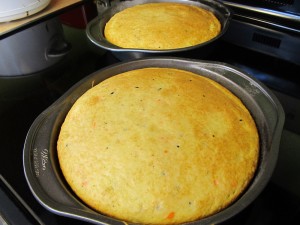 Make a batch of frosting, or buy pre-made frosting. Dye the frosting orange. My son supervised the dying, but go ahead and make it as orange as you like.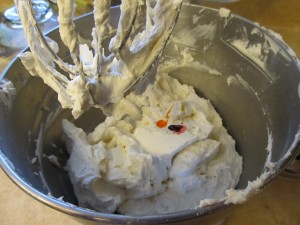 "Glue" the bottom layer of the cake to a cake stand with a dollop of frosting. This is a handy trick I learned from Paula Deen on the Food Network. She also taught me to tuck wax paper under the layers to keep the stand clean. I often do this, but I was feeling a bit too lazy this day.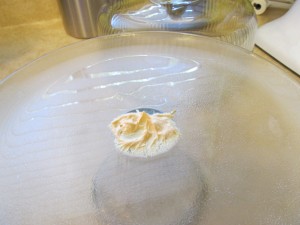 Frost the bottom layer with a generous amount of your lovely orange frosting and put the top layer on. Frost the top and sides.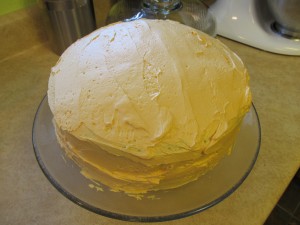 Now take the remaining frosting and dye it brown or black. We opted for brown for two reasons. One; black food coloring has a nasty habit of dying mouths black. And two; why would I use a flavorless food coloring when I could dye a frosting brown with cocoa powder? I just add a couple tablespoons to the frosting and mix it in. Then I not only have brown frosting, but I have chocolate frosting!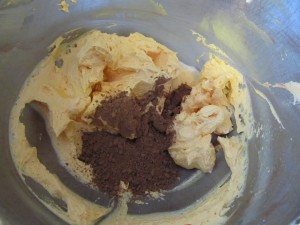 Using a piping bag and a round tip, pipe on your jack-o-lantern face.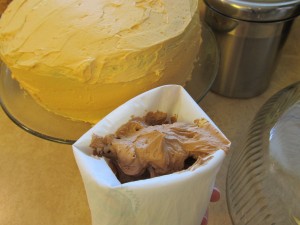 My son and I decided to give our pumpkin vine hair. My husband thought this was ridiculous and claimed I was "making this up as I went along." Of course I was making it up as I went along! But that isn't the point. Since pumpkins grow on vines, jack-o-lanterns can have vine hair. My son objected to my idea of freckles though, but agreed to let me pipe balls around the bottom edge. Really; I was just trying to find a way to add more chocolate.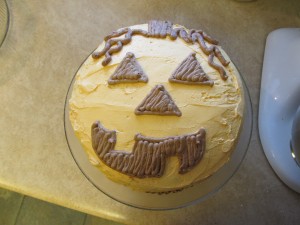 That's it! It's as easy as a normal layer cake, but is perfect for Halloween!!