Since it's the Friday before Halloween, I thought I'd post a Halloween Recipe rather than the standard Fall recipe. I signed up to bring a "small" Halloween treat to my son's school Halloween party and this is what I came up with.
I started by making standard Rice-Krispie treats. Then I grabbed about 1 1/2 T of mix and formed it into a triangle shape, making sure it could stand up on its own.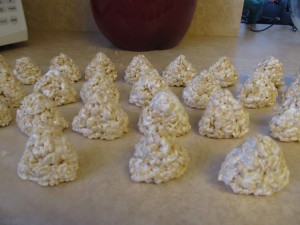 After the triangles set up, I melted plain old white chocolate chips in the microwave, stirring after each 30 seconds of heating until they were all melted. The chips are a lot cheaper than the white chocolate baking bar, and I'm pleased to say, they worked just as well.
Because these are ghosts, I wanted the coating to be a bit swirly and rough. I just rolled the treats in the melted chocolate until they were coated, and let a bit drip off the bottom before setting them on wax paper to set.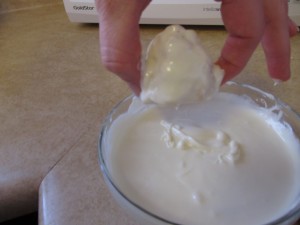 After they set, I used store-bought black gel to add 2 eyes and a mouth.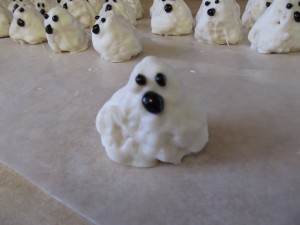 That's it! Just let the gel sit for a while and they're done. I'm thinking of doing a more careful job of forming and coating them, and making Christmas trees in December using green food coloring in my white chocolate. We'll see how ambitious I am.