I don't have a lot of vices in life. I don't smoke or drink. I can avoid fried foods, most red meat and I rarely drink calories. But there is one thing that I go crazy for: SUGAR! Not the natural, healthy sugars found in fruit, but the teeth-rotting, cellulite-educing, take-years-off-your-life kinds of sugars found in candy, cookies and cupcakes. I can't get enough.
To keep myself from going on a sugar binge every day, I make these delicious, little, oatmeal raisin cookies and keep them in the fridge. When I get the urge to shove a snickers bar in my face, I'll eat one of these little babies and I find myself satisfied until my next sugar craving.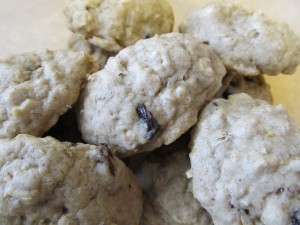 Just to point out: these are not diet cookies. They still have butter and eggs, but they don't have any sugar other than the sugars found in the fruits I add. They do have less butter than most cookies though, so that should make you feel warm and fuzzy inside. I know it has that affect on me.
This recipe is a variation on one my mother-in-law gave to me years ago. I added bananas because I love the extra sweetness and flavor it gives these cakey cookies.
Start by creaming together, in a mixer:
1/2 C softened butter
1 C no-sugar-added applesauce (ingredients should be apples, water and absorbic acid).
3 very ripe bananas
Once this is combined, add:
In a medium bowl, whisk together:
2 1/2 C flour (use all-purpose or whole wheat. The all-purpose, of course, tastes better, but the whole wheat is better for you. It's the age-old dilemma).
1 1/2 t baking powder
1 1/2 t baking soda
1 t nutmeg
2 t cinnamon
Then add to the dry mixture:
Add the dry ingredients to the wet and mix until combined.
Stir in
Scoop these onto a cookie sheet lined with parchment and bake at 375 degrees for 10-12 minutes.
Once they're cool, I always stick eight or so in the fridge and then freeze the rest. This makes about 3 dozen, so I'm set for a while. These are also great to have on hand for kids. They feel like they get a treat, and I don't feel guilty for adding to the childhood obesity epidemic.
Now you can have your cookies and eat them too!