This week we made the most amazing salad from allrecipes.com. This salad is wonderful because it serves a huge group; and because it's mostly beans… it's inexpensive! Plus, it can be served at room temperature. I've posted the recipe below with my additions. Find the original recipe here.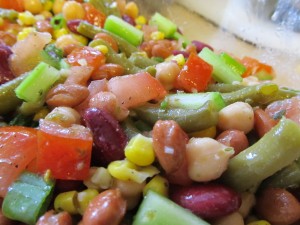 Start by draining and rinsing together in a big colander:
1 (16 ounce) can kidney beans
1 (15 ounce) can pinto beans
1 (15 ounce) can garbanzo beans
1 (15.25 ounce) can whole kernel corn
1 (15.25 ounce) can cut green beans
Put this mixture in a large bowl and add:
3 chopped celery ribs
2 chopped tomatoes
1/2 C chopped green onions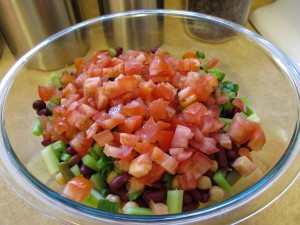 In a small bowl, combine:
1/2 cup cider vinegar
1/4 cup vegetable oil
4 garlic cloves, minced
2 teaspoons dried oregano
1 teaspoon pepper
1/2 teaspoon ground cumin
1/2 teaspoon curry powder
Pour the dressing over the salad and toss to combine.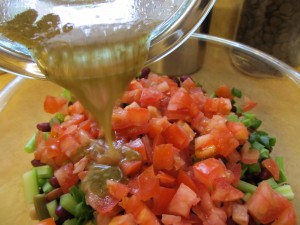 Let the salad sit in the fridge for a bit for the flavors to develop. This is one of those salads that tastes better after a night in the fridge.