For Christmas dessert, most people make pies and puddings. We make cupcakes. Luckily, I have an amazing cupcake book I use basically anytime I need to make cupcakes. The Great Cupcake Book by Nordic Ware is my favorite of my nine (yep, nine) cupcake cookbooks. There are fun new flavors and classic flavors, but these cupcakes always turn out fluffy and delicious. There's something to satisfying about pulling a pan of cupcakes out of the oven and seeing that puffy little dome on the top. Maybe I need to get out more.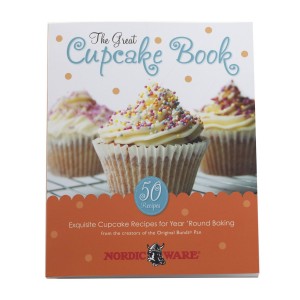 This book contains my favorite go-to chocolate cupcake recipe. It's really rich and moist. It's also versatile. I often change up the flavors or add fillings to this cupcake. One variation I make that always goes over well is a cherry-chocolate cupcake. Here we go!
Sadly, I don't have a picture of this version, but here is a picture from a time I made the basic chocolate cupcakes. You can see they more than pass the "cute and puffy top" test.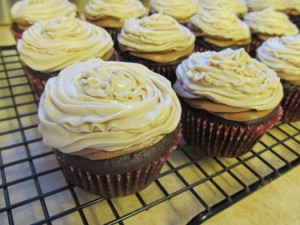 Ingredients:
3/4 C softened butter
2/3 C granulated sugar
2/3 C brown sugar
2 t almond extract
2 large eggs
3/4 C buttermilk
1/2 C maraschino cherry juice
1/2 C sour cream, room temperature
1 3/4 C all purpose flour
1 rounded C cocoa powder
1/2 t salt
1 1/2 t baking soda
Directions:
In a mixer, cream together the butter and sugar (about 5 minutes).
Add eggs and almond extract and mix until combined.
In a medium bowl, whisk together the buttermilk, sour cream, and cherry juice.
In a large bowl, whisk together the flour, cocoa, salt and baking soda.
Alternately add the buttermilk mixture and the flour mixture to the creamed butter, starting and ending with the dry ingredients. I usually add the dry ingredients in three batches and the wet in two.
Scoop the batter into a muffin tin lined with cupcake wrappers, filling them about 3/4 full.
Bake them at 350 degrees for about 20 minutes. When the top springs back when lightly touched, they are done.
I top these with a simple cherry butter cream frosting:
1 C butter
4-6 C powdered sugar
2 t almond extract
2 T maraschino cherry juice
2 T milk
Directions:
Cream butter and powdered sugar
Add milk, juice and almond extract and beat for 5 minutes
Pipe or spread on the cooled cupcakes.