Here in the United States, we recently celebrated our country's Independence Day.We are a very patriotic family (especially my husband), and his dream has always been to have a large flagpole in our front yard. While we were looking for houses a few years ago, he wanted to put in an offer on any house with a flagpole, regardless of any issues the houses had.  In the end, he decided we could pick any house and install a flagpole later (Whew!). This Independence Day, we made that happen.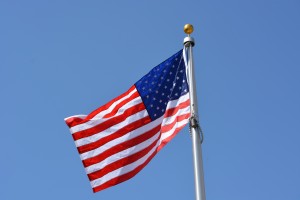 We invited friends, neighbors and the local Boy Scouts of America troop to our home to help raise our flag for the first time.
We then celebrated with 100+ muffins. This is what 100 muffins and hours of labor look like.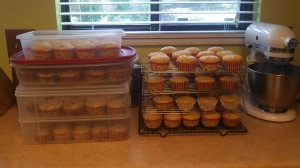 The recipies for these 100 delicious muffins, came from this amazing book entitled… "Muffins," from Williams Sonoma.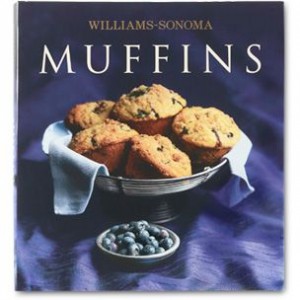 This book is makes me very happy. For those with a sweet tooth, we made Blackberry Muffins (pretty much the best thing I've ever eaten), Sweet potato muffins (one of my personal favorites), and Cranberry Orange Muffins.
For those who wanted something savory, we made Cheddar Cheese muffins (these were AMAZING and I couldn't get over how cute and puffy they were), and Bacon and Gruyere Muffins (one of the favorites of the event).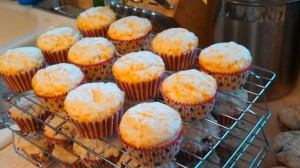 Needless to say, I think everyone was satisfied. I am so excited to try out the other recipes in this book, like the Vanilla Pear Muffins, Peach Melba Muffins and the Tomato and Goat Cheese Muffins. Perhaps I should dedicate an entire week to making and eating muffins.
On another note, flying our country's flag in our front yard makes me very proud. No matter how much we as a people agree or disagree on issues, I think what the flag stands for is something we can all be proud of.
I also think it's important for children to take pride in their country. No matter where you live, take the opportunity to tell your children about the country where they live, and where there ancestors came from. Tell them stories, show them pictures and tell them the histories. This is even more valuable than 100 delicious muffins.