Here is a 4th of July treat simple enough for kids to do most the work. This came together in just a few minutes.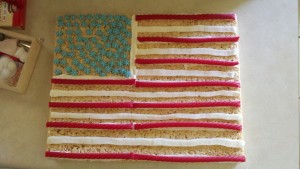 We started out with a store-bought rice krispie treats sheet. This is nothing more than a massive rice-krispie treat. Very American! I'm sure the concept works the same with a homemade treat in a sheet pan, but I wanted this to be a simple project for the kids, so I let Kelloggs do the leg work.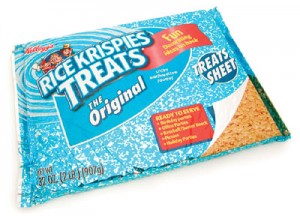 I made a simple butter-cream frosting, but feel free to use a can of pre-made frosting (we're doing a simple treat. Remember?).
I filled a piping bag with the frosting and piped a line of white. Then my kids put the red licorice on top for the red stripes, and we left the white stripes plain. I suppose we could have filled the treat in completely with red and white… but we didn't.
Then we tinted the frosting blue (my son loves adding food coloring to frosting) and piped on stars. Before anyone makes too much fun of me, I'm well aware there are 50 stars on the American flag. I'm also aware, there are way more than 50 stars on our flag treat. I didn't think I'd fit 50 stars, so I just decided to pipe until I couldn't fit anymore. Little did I know…
If you don't want to pipe the blue stars, make white dots and let your kids top them with blue candies, or even blue sprinkles.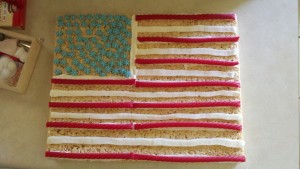 Enjoy!